Little Jerusalem in Pitigliano and Hot Springs in Saturnia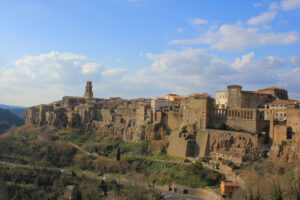 Pitigliano
The area at the border between Lazio and Tuscany is particularly rich in places worth visiting. Our first stop today will be Pitigliano, a town in the Maremma region, spectacularly set on a volcanic outcrop, surrounded by gorges on three sides and towering over the surrounding landscape.
Not only the somewhat perilous looking cliff on which the town is located, but the houses and buildings are all made of tuff.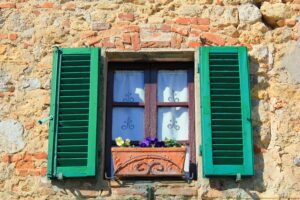 Pitigliano
Pitigliano is often referred to as Italy's Little Jerusalem due to its long-standing Jewish community. The Jewish community settled in Pitigliano in the 16th century, and increased notably after Pope Paul IV confined the Jews in the Ghetto in Rome in 1555. The Jewish neighborhood includes a tiny, but richly decorated Synagogue, built in 1598, a ritual bath, kosher butchery, bakery, wine cellar and dyeing workshops. Inside, the Synagogue is decorated with stucco and epigraphs written in Hebrew; the furnishings date back to the 16th and 17th centuries, when the community came to count about 400 people.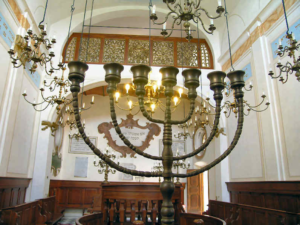 The Synagogue in Pitigliano
The town itself is charming, with cobbled alleys, graceful arches spanning across streets, the remains of an aquaeduct built by the Medici and restaurants serving a unique Jewish-flavoured local cuisine.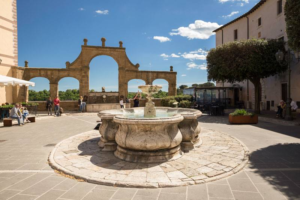 Pitigliano
After a delicious lunch, it is time to relax and enjoy one of the many natural wonders this area offers: a short drive takes us to the Saturnia hot springs, located in an idyllic little valley. This is one of the local's best kept secrets: the source is located farther upstream, where a fancy spa has been built – but a little farther down, just below a little waterfall, the water flows into natural pools, etched into travertine rock over the centuries, creating a natural spa. The water has a constant temperature of  37°C, and originates from an underground spring containing sulphur and other minerals, thus being used since ancient Roman times to cure minor ailments. The setting of the natural pools and the views they offer on the surrounding landscape make for a truly unforgettable experience!