Hidden Treasures: Palestrina and Subiaco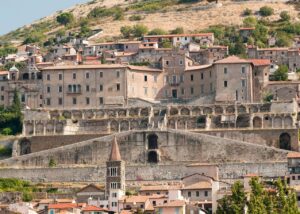 View of Palestrina with the remains of the Sactuary of Fortuna Primigenia
Among the many destinations most international travelers are not familiar with, today we will explore two of my favorite ones in the vicinity of Rome.
Palestrina is located about 35 km (21 miles) east of Rome, and is a pretty little town located up in the hills, thus offering a perfect getaway on a hot summer day.
Even though it has no shortage of the characteristic medieval streets, little churches and picturesque corners we know and love from many an Italian village, Palestrina's main claim to fame derives from the monumental,  terraced Sanctuary of Fortuna Primigenia, a spectacular temple dating back to the 2nd century BC. The sanctuary has long since been built over, but some of its terraces are still visible, while some served as a foundation for a Renaissance palace which later became the National Archaeological Museum.
In the Museum, housed in the beautiful rooms of the Barberini palace, we'll see not only a number of items from the sanctuary, one of the best known of ancient times, but also a world-famous masterpiece: the colorful, unbelievably detailed Mosaic of the Nile.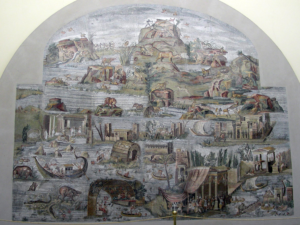 Mosaic of the Nile in the Archeological Museum in Palestrina
After seeing this incredible masterpiece, let's get lunch at one of the best restaurants in the region!
Afterwards, let's hit the road for a scenic drive across the mountains, heading to Subiaco. On the way to Subiaco you will be enchanted by the lovely landscape of the Simbruini Mountains, covered in vegetation and dotted with little  fortified villages on top of almost every mountain.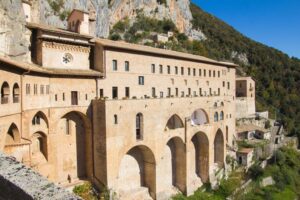 Subiaco, Sacro Speco 
In Subiaco, the village where St. Benedict spent his heremitical life and where he founded his first convents, there are two monasteries to visit: halfway up the mountain, there's Santa Scolastica, with three evocative cloisters and a beautiful medieval belltower, surrounded by the lush  valleay of the Aniene river.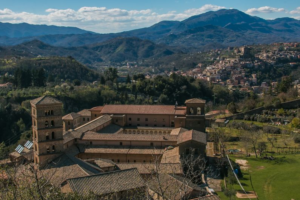 Subiaco, Santa Scolastica and the Simbruini Mountains
Further up, the Sacro Speco, built from the 12th century on, incapsulating the grotto Saint Benedict lived in, and decorated with incredible medieval frescoes representing the life of the Saint. The Sacro Speco is known as the swallow's nest, since it is literally attached to the rough rocky side of the mountain. It is a place of stillness  and peace, that will stay with you for a long time after your visit!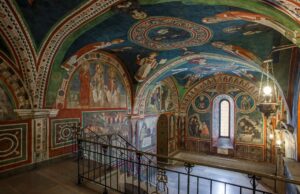 Subiaco, Sacro Speco, Lower Church