Grand Renaissance Residences: Palazzo Farnese in Caprarola and Villa Lante in Bagnaia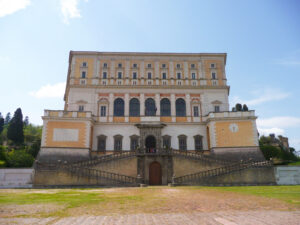 Caprarola, Palazzo Farnese
On this day trip we will discover some of the most impressive noble mansions in Lazio, located about 90 minutes north of Rome.
In the small town of Caprarola, we'll visit a palace worthy of Rome's grandest residences: the magnificent Renaissance palace and gardens built for the Farnese family by the virtuoso architect Vignola. Beautiful frescoes, fancy stairways, grand halls rival the Papal Palace in the Vatican – but all to yourself!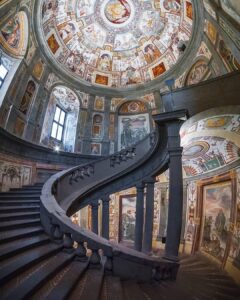 Caprarola, Palazzo Farnese, Royal Staircase
Alessandro Farnese became a cardinal at the young age of 14, being Pope Paul III's grandson. The Farnese were the biggest landowners in this area (the name itself derives from the oak woods that once covered the region – farnia is Italian for an oak species), and between 1559 and 1575 they decided to build a palace even bigger than the family's residence in Rome.
The formidable pentagonal structure is a mix of military and civilian architecture, delightful Renaissance villa, show-off palace and fortress at the same time.
Once inside, you'll easily understand why the Palace has been chosen as a backdrop for many famous movies: the richness of the decoration literally blows you over. The glorious helicoidal staircase with its 30 peperino columns and the grotesque paintings is justly famous, and the Hall of the Maps shows maps of the world at the time of Christopher Columbus, Amerigo Vespucci, and Magellan.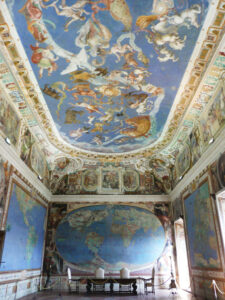 Caprarola, Palazzo Farnese, Hall of the Maps
Behind the Palace, we can stroll around the beautiful gardens, decorated with fountains and statues; but the ultimate choice when speaking of gardens in the Tuscia region is certainly Villa Lante, which we'll visit after lunch. For lunch, I would suggest one of my favourite restaurants, located in Carbognano, one of the small villages nearby.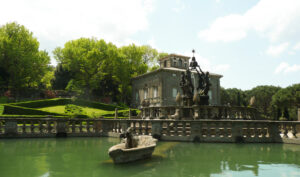 Bagnaia, Villa Lante
A short but very enjoyable drive through the woods takes us to Villa Lante, built around the same time as Palazzo Farnese by the Cardinal Gianfrancesco Gambara, as a summer residence for the bishops of the nearby city Viterbo.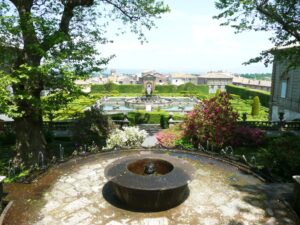 Bagnaia, Villa Lante
The formal garden is enrichened by fountains, water jets, dripping grottoes and offers superb views of the surrounding landscape. The two miniature villas set within the garden have beautifully frescoed loggias, with typical Renaissance-style paintings of grotesques and mythological scenes.
It feels like a smaller version of Villa d'Este!