Fairy-tales come true: Garden of Tarots and Capalbio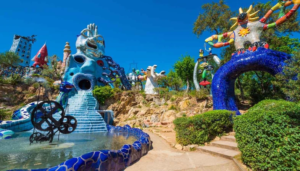 Capalbio, Garden of Tarots
Today we are off to explore some truly magical places in the Maremma area, the coastal strip of Southern Tuscany, bordering to the Lazio Region.
Our first destination is the dreamy Tarot Garden, near the city of Capalbio. This enchanting space was built by French artist Niki de Saint  Phalle and is full of huge, colorful sculptures, representing the 22 Major Arcana of the Tarot cards.
The wish of the artist was to create a "small Eden where man and nature meet", inspired by the philosophy and creations of the Catalan artist Antoni Gaudì.  Apparently, Niki started her epic project after a trip to Spain, and actually what comes easily to mind wandering around the Tarot Garden is Gaudì's beautiful Park Guell in Barcellona.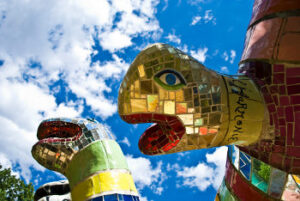 Capalbio, Garden of Tarots
The garden was started in 1979 and completed only in 1996, and was opened to the public 2 years later, on May 15th 1998. The artist worked for almost 20 years to give life to the huge sculptures that animate the grounds: each of them has a steel structure, covered by concrete and decorated with ceramics, colored glass and mirrors. Niki self-financed the project, investing a total of about 5 million euros to make her vision come true.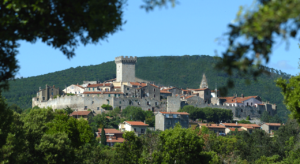 Capalbio
After our visit to this fairy-tale garden, we'll head to Capalbio, a charming village perched on top of a hill with breathtaking sea-views. It is surrounded by a double set of walls, along which extensive stretches of the suggestive patrol bays can still be walked.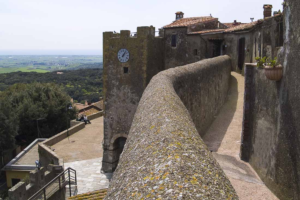 Capalbio, the walls surrounding the town
Because of its closeness to Rome but secluded position, over the years Capalbio has become a holiday destination for the élite, drawn by the evocative atmosphere created by the romantic medieval alleyways and the ancient castle that dominates a landscape of quiet rolling hills, olive groves, and vineyards. Several beautiful beaches are just a stone's throw away, but here you are far from the buzz of summer vacationers, and many cultural festivals and events have led the town to be nicknamed "little Athens".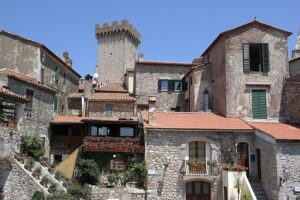 Capalbio
I'm sure the relaxed atmosphere of this charming little town will make you wish to stay! Especially after trying some of the delicious dishes of the Tuscan tradition served at the many local restaurants: acquacotta (a hearty vegetable soup), pappardelle al cinghiale (home-made pasta with boar ragout) and, of course, the olive oil and red wine coming from the surrounding hills!